THE RISE OF MULTI-CREATIVES
Talk about inspiration. My friend Slaven aka Lunar of the YCP crew in Croatia just landed the front cover of Forbes Magazine in his country. While just a couple weeks ago, he sent me flicks of the latest wall he painted with his brothers.
Now, how could a bunch of graffiti writers land on the cover of a serious money magazine? How could that BE?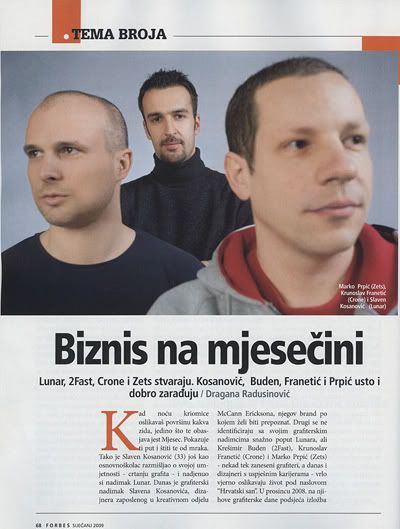 Slaven's response (
as is)
:
"You know how I see it, gotta pay da cost to be free in creating what I love. Paying the cost in my case is 9-5 at the agency. Try to get the best of it and after it, second shift is only for my own sake. This made me enjoy what I'm doing even more. and for forbes, I'm very glad for them recognizing love and dedication, not only greedy and businessmen who step over people's heads to get to the next level who are usually on their covers...

They had a theme for this issue, called 'croatian dream' (hrvatski san). Croatian dream is a bit different than American one, in first place we do care about family and close friends and enjoyment in life, not only running after the money like most western world. they thought my career was the good example so they requested the interview and illustration for the cover. also a recommendation for several people from last exhibition (10 years anniversary of first official group graffiti exhibition organized now by croatian ambassador in morocco) who i thought had sucessfully transferred from graffiti to business. I guess it's a cool step forward..."
Whatevs.
Talk about the infiltration of Cool.